Poker Three
Poker three combines the best of Caribbean Stud and Let them Ride poker which accounts for its growing popularity. Like other poker based casino table games, your objective is to beat the dealer's hand. In this case, instead of a five or seven card hand you have a three card hand. Along with the normal bet on the hand, you have the option of a side bet called Pair Plus. The Pair Plus bet is paid out independent of your decision against the dealer, with a fixed bonus schedule which is similar to a slot machine. There are three types of bets, Ante, play and the side bet, Pair Plus. The rules of play for Poker Three are described here. It is important to note that in this game, a three card hand of three-of-a-kind beats a straight or flush or straight. The house edge tends to be a little less than 2.5 percent.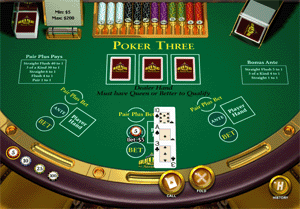 Step 1. Players make their Pair Plus and Ante bets. Either one or both bets may be made.
Step 2. The dealer deals three cards to every player including himself. After you look at your three cards, you must decide whether you wish to "play" the hand or fold. If you fold, you lose your ante bet.
Step 3. To stay in the hand, you make a bet in the Play box equal to your ante bet. Now you are in the game and playing against the dealer.
Step 4. After all the decisions have been made by the players, the dealer turns over his three cards and determines whether his hand has qualified. If the dealer's does not contain at least a queen-high or better hand, the players win their ante bets and have their play bets returned. If the dealer qualifies with queen-high or better, then the all the hands are settled.
In a dealer-qualifying hand, if your hand is better that the dealer's you collect even money on the ante and play bets. If you do not, beat the dealers hand you lose both bets. Note that even if you lose both the ante and play bets with an inferior hand, you do collect a bonus on the ante bet even with a losing hand. A typical bonus payout schedule is shown below
Typical Ante Bonus Payouts for Poker Three
Straight flush: 5 to 1
Three-of-a-kind: 4 to 1
Straight: 1 to 1
Flush or lower: zero
If you made a Pair Plus bet, you are paid according to the table below. You lose the Pair Plus bet if your hand doesn't qualify for a bonus. Note that it has nothing to do with whether you win or lose your ante and play bets. It is also important to note the three-card hierarchy: Three-of-a-kind is more difficult to get than straights and flushes, and a straight is more difficult to get than a flush.
Typical Pair Plus Bonus Payouts for Three Card Poker
Straight flush: 40 to 1
Three-of-a-kind: 30 to 1
Straight: 6 to 1
Flush: 4 to 1
Pair: 1 to 1
All other hands: player loses
Your decisions in Poker Three are whether to make the Pair Plus bet, how much to bet on Ante, and depending on your three cards, whether to fold or make the Play bet.
Owing to the fact that there is no possibility of achieving an advantage in this game, it is recommend to avoid the Pair Plus bet until you are comfortably ahead from the Ante and Play bets. Then, with luck on your side, make a Pair Plus bet when you feel lucky or have a hunch on that next hand.
As far as the Play bet is concerned, it seems logical that you follow the dealer's play. If the dealer must have a queen-high or better to qualify, you should, too. It is recommended that you fold if your hand is less than a queen-high. Let the dealer have the Ante bet and avoid the risk of losing that play bet on an inferior hand.
© 2023 Awesome Casino.